Did you know that October is Down Syndrome Awareness Month?
Neither did I, until last October, when all over the place, I was reading about 31 for 21... 31 blog posts for the 31 days of October, all about little ones with an extra 21st chromosome.
So along with your regularly scheduled Ellie updates, you get some info on Down syndrome each day.
Allow me to introduce... DAY ONE.
Since this whole 31 for 21 thing is played out on blogs, I thought I'd introduce you to some great blogs dealing with Down syndrome. Almost every mom I know in the (very large) virtual DS community has a blog, so I'm just picking a few that either mean a lot to me or that I think you'll enjoy, whether you have a child with Down syndrome or not.

Enjoying the Small Things
. This is the "biggie." Kelle blogs more about life than about Down syndrome, which I appreciate. Down syndrome isn't our whole life, either. DS plays a part in Kelle's life too, as her beautiful Nella has a bonus chromosome. And the photos are amazing. You'll want to move to Florida.
Doozeedad
. Meriah is raw and real and hilarious. And she is super into urban homesteading. Did I mention she's hilarious? She tells great stories about her daughter Moxie (who has Down syndrome) and her son Micah. One of my favorite posts isn't about Down syndrome, but about Micah deciding that the tooth fairy isn't allowed in his room. The Down syndrome posts are great, too.
The Bates Motel
. Becca has a beautiful little girl with Down syndrome, who has the greatest hair ever. I'm not even kidding. I'm so jealous of Sammi's hair. Sammi is about five years older than Ellie, and I love seeing possibilities for my little one.
A Perfect Lily
. Patti advocates for orphans with Down syndrome and writes beautiful letters to her little Lily. I love her passion and I love cute little Lily. Oh, and Lily is her youngest of TEN. That's right, TEN kids.
Butterfly Wings
. This is the coolest adoption story ever. Imagine looking at a child up for adoption and thinking, "We should adopt her." Then, imagine that the requirements are very specific and hard to meet... and you meet every single one. That's Amy's story as her family goes through the process to adopt P. (Amy's son also has Down syndrome.)
Pudge and Biggs
. This blog makes me laugh every single day. Two toddlers with Down syndrome, eleven months apart. Their mom is amazing, and since she's a teacher, I like the way she breaks down tasks for the kids. They are adorable little troublemakers. I find myself frequently commenting, "This just made my day."
Happy reading!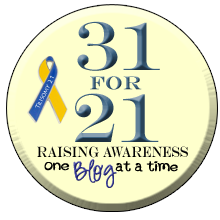 Grab This Button