Happy Friday! Three things to share.
One: I am an instagram addict. Thanks, iphone.
(Lots of Ellie eating. Also, Fall arrives, trendy baby in sweats and fake Uggs, and how Ellie likes to wear her hat.)
Two: Check out these cool blogs celebrating Down Syndrome Awareness. Just click the button below.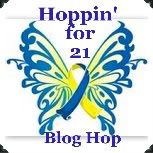 Three: Please pray for Emmrie. She's a bit younger than Ellie and was born with the same medical list of duodenal atresia, AVSD, and Down syndrome. She is struggling through her recovery from open heart surgery, and our hearts and breaking for her family as they wait impatiently to go home with their little one.
***
We are looking forward to more fall fun around here, including a wedding.